A spacious, airy al fresco style deck offers room for patrons to relax and watch the world go by, and the dining room has ample tables for couples, families, and small to medium sized groups.
The style of the café restaurant nods toward a nautical style, and if you look around you'll notice a classic model ship displayed in the dining area, a black as night raven light fitting featured discreetly in the bar, and a number of rope, skull and ship related items scattered around the building.
A vertically standing boat with shelving in the recess displays relishes, preserves and other goods from local makers such as Gentle Goat, Fish Creek Olives, Australian Tea Masters and Garlicicious , and a nearby fridge full of ethically sourced produce is regularly stocked by Tarwin Lower based business
'Fresh As'. Tracey visits growers and farm gates all over Gippsland to make sure that not only is Long John's kitchen stocked up for service, but a range of colourful seasonal fruits and vegetables are also available
for sale to the public.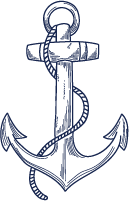 The venue is dog-friendly, bicycle-friendly, fully licensed, and capable of hosting functions – and offers catering as well.
Having lived and worked in South Gippsland for the past seven years, owner and manager (Captain) Trevor takes a great deal of pride in providing, top-notch meals and fast, friendly service for both Fishy locals and travelling tourists alike.